In support of Dementia Awareness week which starts today May 16th, 2022, we thought we would share a story about one of the fabulous people we work with who is living with dementia.
Take our Hilary, living with her daughter who was getting concerned over her mum's reduced mobility and poor balance and was not sure if she would be able to engage with our classes as we had moved them online due to Covid restrictions.
Well here she is just 9 months after starting our online falls prevention classes. Just look at that smile! Increased endurance. Improved balance. More confidence. Most importantly, getting active and living her best life.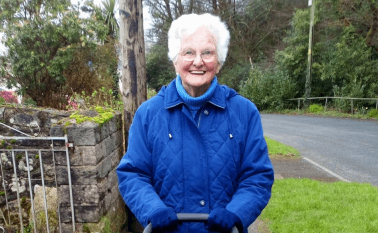 I recall Hilary taking part in an interview alongside her daughter and Helen asked her to tell us what was going on with her health-wise.
"Me? I've had a cold but I'm all right now," said Hilary.
Her daughter smiled and gently said, "Yes, but you also have dementia, don't you mum?"
"Do I? Oh ok. I forgot."
What is dementia?
Did you know that dementia is an umbrella term for a progressive decline in mental functioning, with impairment of memory and abstract thinking, that often goes hand in hand with a change in personality?
Dementia can be terrifying for the person living with it, as their world has changed, and they may not recognise the person who is sitting beside them or has appeared in their bedroom with a cup of tea in the morning or remember how to get home. In frustration, they may lash out at the ones they love most.
But, there is another side to dementia. My friend's mum is living with dementia, and she calls it her "happy dementia." She looks at a picture on the wall of a beautiful destination in the world, somewhere she has never been, and starts talking about it as though recounting perfect memories. It has given her the freedom to be whoever she imagines, including a ballet dancer and an explorer. She will sing and dance at the bus stop and others will see the joy on her face and they will join in! Hey, life's short, why not?
Dementia is not about age, it's about illness.
I was in awe whilst watching a BBC interview with a couple on breakfast TV this morning, a husband with his wife who has dementia. His attitude was amazing. He said their old life had ended but this was the start of a new adventure, a new life. Together, they looked for the happy moment in every day. He drove home the point that dementia "is not getting old, it's getting ill."
Whilst seeking out photos from our Smile and Reflect classes run at Memory Cafés across Cornwall, funded through Cornwall Rural Community Charity, I was reminded of attending one of their events in Redruth. Here, they had invited the author Jane Grierson to talk about her heart-warming book "Knickers in the Fridge" based on her own experiences on The Lizard, Cornwall of living with her mum who has Alzheimer's.
As she read a chapter from the book, the room was captivated, roaring with laughter one minute and moved to tears the next. It is all about acceptance and embracing the new normal, which takes patience and time. Well worth a read.
Is there a cure for dementia?
There are medicines and treatments to help with some of the symptoms caused by dementia. However, the search for cures, for the different diseases such as Alzheimer's, which cause dementia marches on.
We know that staying active can help and exercise releases endorphins, helping you to feel good, feel more positive, and less anxious.
When you pair the right exercise to the right kind of music, as we do for our Smile and Reflect classes, the result is incredible. We have had a room full of clients living with dementia participating with gusto in seated dance to music they love at the height of the session and then at the end of the session, as we bring them down to such a relaxed state, they fall fast asleep. It is the iCareiMove magic.
What is iCareiMove doing to raise awareness?
We will be spending the rest of Dementia awareness week joining with other dementia specialists to talk about dementia, firstly through talking to Rosie Mead of Musica Music and Laura Walker of Memory Matters on our Chaos TV Woman's Hour Dementia Special slot tomorrow at noon (17/05/22).
Then, on Thursday 19th May, we are attending the Cornwall Dementia Conference in Newquay all day, where Helen will be on stage talking about her mum-in-law who developed Creutzfeldt-Jakob Disease (CJD), a rare form of dementia, and will then demonstrate a section of our Smile and Reflect class.
To find out more information on dementia check out the links below:
https://www.dementiauk.org/ or https://www.alzheimers.org.uk/